Way back in 2001 when I was just starting to edit videos and play around with a camera I purchased a DVD+RW re-writable disc drive. I had to spend a pretty penny back then to do it and was spending about 20$ for a single disc to burn and customize menus. I have always had a fondness for tinkering around with my own edits of movies. In the past I have made edits of Spider-man 3, Superman 3 and the Captain America 1990 movie.
The one I get asked about the most is the Batman Forever Much Darker cut. The intro to the cut can be seen on my Youtube channel. Originally I burned and sent out DVD's to anyone who was interested, provided they pay a small shipping charge. Later I had to stop this for reasons beyond my control. So I stopped handing out cuts of the movie but that did not stop people from asking about it. You guys asked, and asked and asked. So here it is, a downloadable file, free of charge to anyone. It is a ISO file. Meaning that you have to burn it onto a DVD disc. Most DVD writing software programs will understand this file like: PowerDVD and many others. If you need more information on what a ISO file is, check out this great tutorial:
http://pcsupport.about.com/od/termsi/g/isofile.htm
Batman Forever Much Darker Cut Download Link:
https://mega.co.nz/#!yR9mjZoB!Ry3dYA3OCQMbiZmyThWe82YAd_wKJk1adfqyPguv01g
The file may take you a while to download, and when you do, mount it onto a DVD then plug it into your DVD player and watch away!
I recently watched this to remember what I had made and in retrospect there is a lot I would change, but the cut stands as I did it back in 2008. If I had to do this again I would do it in proper widescreen – HD and on a blu ray. Additionally there are some rare scenes I have acquired that are not on the public DVD/blu ray…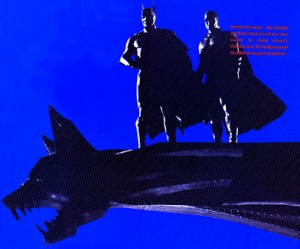 Again this would go a long way to making Batman Forever similar to the previous movies…well as close as one can get it. However, it is still Batman Forever, and its still ultimately Schumachers baby. Im' still seriously thinking about re-cutting this again with the materials I have at my disposal. Will it happen? Now there is a riddle for you…
I have also added here two images if you want to print them off for a DVD art cover and DVD disc art, if you have the materials to do so:
Why did you make this?
One of my favorite memories was seeing Batman Returns when I was a kid, I must have been around 9, with my father. I absolutely loved that movie when I saw it and still do . I always wondered what a third Batman movie by Tim Burton would be like and would we ever get a follow up to Batman Returns. Since then I have tried to find as much information as possible about Burtons ideas for Batman 3 and here are just a few of them:
-Two-Face would most likely appear to be white on one side and black on the other (Referenced by Burton himself on the Batman 1989 DVD commentary)
-Riddler was said to be the main villain played by Robin Williams. He would have a pet rat and a question mark shaved into his head.
-Marlon Waynes was cast as Robin in Batman Returns and even did costume fittings and was said to appear in Burtons Batman 3, named only as Robin, a mechanic who would work on Bruce Wayne's Batmobile.
-Michael Keaton has said publicly he wanted the movie to explore Batmans origins.
This particular cut of Batman Forever is very different. Its much shorter, more to the point, and a lot has be cut out. Colors are less vibrant, music by Danny elfman is re-inserted into the movie, and the scenes that have been left in have been changed around a bit.
I ultimately made this so if I ever have to sit down and watch Batman Forever, this is the cut I'll watch. I have often been asked will I ever do a Batman and Robin cut and the answer is no. I don't think there is enough in there that can be fixed. However one talented individual by the name of Greencapt gave his best shot at it and made a Batman and Robin (Deassified) Version. I have a copy of it and if you look around the net i'm sure you can find it. I don' think it saves BandR but it comes close and he made a good attempt.
I hope you enjoy this cut and find something worthwhile here, and perhaps a glimmer of what could have been released back in the summer of 1995.
If you have any questions about the cut, or how to download the file or mount it onto a DVD, post here. Ill respond as soon as I can.
Update: This cut is in no way meant to infringe on Warner Bros Copyright in any way shape or form. It is not meant to make me or anyone else a profit and has been made purely for fun.  If I receive any notification from Warners or anyone connected to the original film to remove this cut I will do so immediately.